What's "Urban Forest Tour"
CHECK
Our most recent tourist attraction in Japan is Urban Forest Tour

We have prepared the "Urban Forest Tour" for international visitors to Japan, where you can unwind and revive yourself after working or travelling.
A new program for forest bathing experiences is being proposed by the NPO organization "itswellness," which has been pushing "Wellness Tourism," a tourism concept that promotes physical and emotional well-being. The tourist concept is known by the name "Urban Forest Tour". The setting is a well-known park or garden in the heart of the city.

Although the practice of 'forest bathing' has its roots in Japan, it has attracted considerable attention across the globe due to scientific evidence showing that it helps reduce stress, balance the autonomic nervous system, and enhance immune function. On the other hand, "Forest Bathing" is a form of recreation that everybody can benefit from while taking part. So, using the experience and insights of forest bathing, we developed a unique tour. Our tours are not like bullet tours. With us, you can relax and unwind at your pace.
Highlights of Urban Forest Tour
POINT 1

In parks and gardens in the heart of Tokyo, you can engage in forest bathing.

POINT 2

A certified interpreter and a master guide for forest bathing will lead you.

POINT 3

So that you may completely enjoy your trip to Japan, you can enjoy sightseeing and eating while on the tour.
Methodology for Urban Forest Tour
Our tour is based on the following itinerary:
01

Gathering & Reception

Your tour guide will introduce you to the unique aspects of the sites where the tour will be held, and will also ask about your physical well-being and your goals for the day. We will also explain the benefits and goals of taking a forest bath.

02

Check your health (Before)

We will assess your health before the trip begins so that it can be conducted safely and effectively.

03

Beginning of the tour

Step into the city forest. Immerse yourself in the forest atmosphere to slowly release your daily stress and fatigue.

04

Enjoy your 5 senses

Take a slow walk, breathe deeply in the forest, enjoy the sights, sounds, smells and sensations of nature!

Sight:

Focus on the sky, clouds, foliage, tree trunks, branches, and leaves, as well as flowers, the ground, and insects.

Sounds:

Pay attention to natural sounds such as birds chirping, water splashing, and leaves rustling in the wind.

Touch:

Touching leaves and tree trunks, sleeping barefoot in the grass, etc.

Smell:

Natural scents vary with the seasons. Notice the scents in the forest air, trees, flowers, soil, and water.

Taste:

Embrace the spirit of nature by enjoying the flavors of forest fruits and local foods.

05

Take a Deep Breath and Relax!

Everyone in the forest has been taking deep diaphragmatic breaths to relax their bodies. You can relax and let the vitality of the forest restore your whole body by lying down on the grass. It takes about 15 minutes to complete this "refreshing with the forest" experience.

06

Sharing is caring

Let's share any sensory insights or changes with everyone while enjoying tea or water. One person fell asleep while lying on the grass. Others said they enjoyed having ideas come to them. Everyone experiences feelings differently.

07

Check your health (After)

We will evaluate your health after the tour and compare the results with the results obtained before the tour. We will observe any changes in your physique and experience the variations. But please be careful, this tour is not a medical procedure, health examination, it is just an enjoyable excursion.
08

Make it a habit

As you did on the Urban Forest Tour, spend about 1-2 hours a week in a park, garden, or suburban forest near your home. A two-hour forest bathing can boost mood, reduce stress- related mental fatigue, and promote both physical and mental health.

And if you can't visit parks, gardens, or forests, take advantage of online forest bathing for a similar experience to walking through a forest. We are also preparing to create a virtual tour using the Urban Forest Tour method.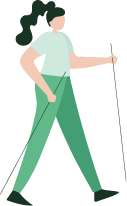 EVENT

Event List

Welcome to join our tour